Mar 31, 2022
Apr 22, 2022
Car travels aren't just enjoyable for humans. Our furry friends often love them also! Some of the best memories with your dog can be made within those many hours of family time and your undivided attention (between drives, of course!). However, you must ensure they're safely secured and comfortable, especially for those long drives when it can be easy for pups to get antsy and anxious.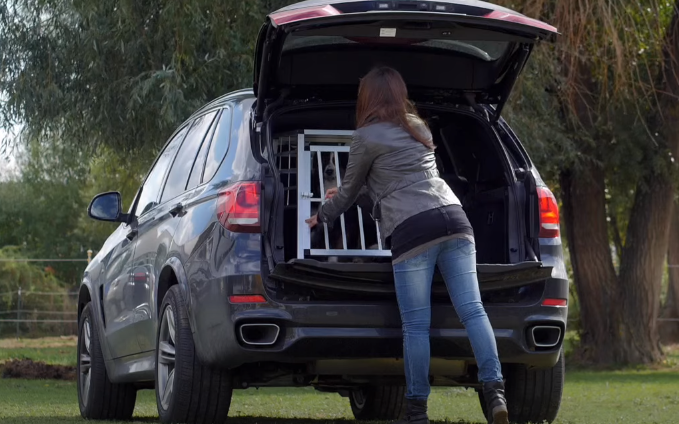 To inspire your next adventure or even a safe trip to the park, here are the best dog crates for car travel this year:
Top Puppy Crates and Carriers for Car Travel 2022
Pet Gear View 360 Pet Safety Carrier & Car Seat (Best Overall)
Best Overall for safety when traveling with small dogs
Topping the charts with features and reviews, the Pet Gear View 360 Pet Safety Carrier & Car Seat is among the best dog crates for travel. First and foremost, it's the safest dog crate for cars since it can be easily hooked up to your passenger seat, offers additional security in the carrier with an attachment to your dog's harness, and has mesh windows all the way around. It's also great for finding a dog crate for your car backseat.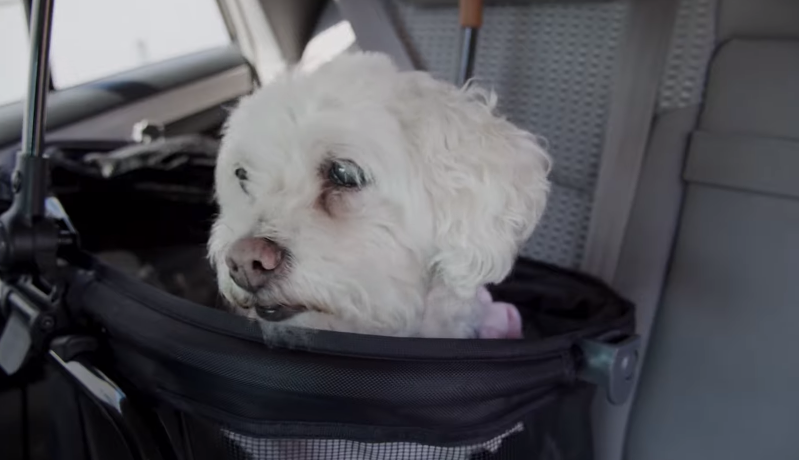 Moreover, more than 2,000 customers have purchased, used, and rated the carrier a 4.8 out of 5. This rating is difficult to achieve with so many buyers for most products, so it says a lot that many people have good things to say about being the best and safest dog crate for a car.
Pros
Mesh windows for ventilation and 360 views
Easy to install
Has a collar clip
Zipperless
The liner can be removed and washed
Cons
Only for small dogs
Some dogs could not get comfortable in it
MASKEYON Airline Approved Large Soft-Sided Collapsible Pet Travel Carrier
Best for pet owners who travel by both plane and car often
The MASKEYON Airline Approved Large Soft-Sided Collapsible Pet Travel Carrier is a very versatile and safe way to travel with your little furry friend. This can be a great option if you're looking for a dog crate for a car back seat. On the other hand, it will not be very protective again airbags in the front seat. With that being said, many verified purchasers liked this dog crate in particular because it's "surprisingly easy to clean," has a lot of "zippered openings, especially the top," and "is a beautiful product."
Pros
Airline approved
Three large mesh pockets
Sturdy frame
Five entrances
Cons
Some animals can push through the zippers
Some verified purchasers found it to be smaller than described (Consider bigger size than your pet)
Morpilot Pet Travel Carrier Bag (Best Value)
Best dog carrier for meeting long travel needs 
The morpilot Pet Travel Carrier Bag is the 'Best Value' because it's not only one of the more affordable prices for pet parents traveling with dogs up to 15-20 pounds (comes in different sizes, so check sizes before purchasing), but it includes additional travel features. These extras include a very cozy cushion to lay in, a foldable water bowl, and an adjustable strap for you to make it easier to carry.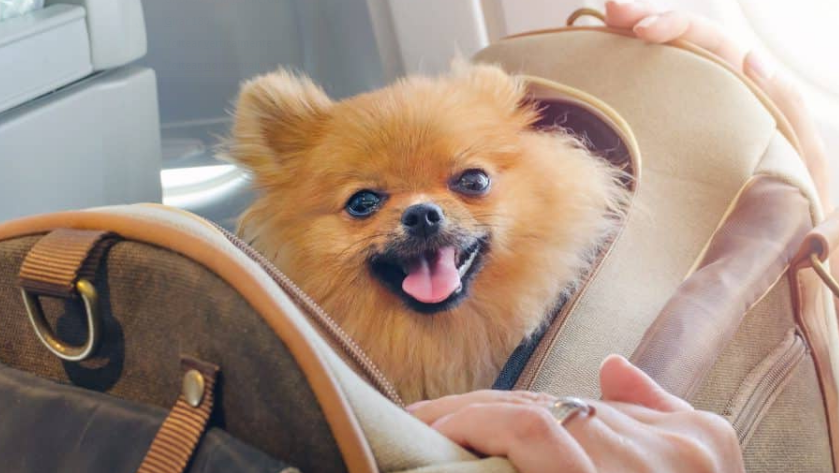 Verified purchasers also rave that it's "incredible quality for the price," "sleek wipeable material," and "great affordable bag for transport and travel." 
Pros
Multiple sizes
Comes with extras
Easy to carry
Breathable mesh
Cons
Large for some airport travels
Some animals have chewed a hole in the mesh and escaped
It wasn't stable enough for some buyers
Petsfit Travel Pet Home Indoor/Outdoor
Best for pets that vary in travel comforts
The Petsfit Travel Pet Home Indoor/Outdoor is a great option if your pet sometimes gets anxious on road trips. With the option to roll up or roll down mesh windows, you can adjust as you see fit. Is the car ride longer than usual? Roll down covers over mesh windows to shield them from too much sensory input. On the other hand, your pet may need more sunlight to relax. In this case, you can roll them back up! This makes for a very versatile soft dog crate for car travel.
Pros
Sets up in seconds with a "patented screw-in frame"
Comes in various sizes
Offers two entrance options
Includes comfortable cushion pad
Cons
Some dogs are prone to breaking through the mesh
Zippers have been reported to break within a year
One for Pets Portable 2-in-1 Double Pet Kennel/Shelter
Best for dog owners traveling with more than one pet
The One for Pets Portable 2-in-1 Double Pet Kennel/Shelter is one of the best options for pet owners with more than one pet traveling. It is an easy dog crate for car backseats that attaches safely, and it has two-connected compartments for multiple animals who want to be close but cannot be in the same crate. 
Pros
Built-in straps for seat buckle
Interior hooks
Easy storage
Dual compartments
Cons
Some pets have been known to break out
Some products have arrived with missing attachments (contact customer service if this happens)
Yoken 4 Door Portable Folding Dog
Best for durability and structure
If you're looking for a durable dog crate for your vehicle, the yoken 4 Door Portable Folding Dog is one of the best options for your pup. It also comes in up to six size options to pick the perfect one for your furry friend. Verified purchasers have raved that it's an "easily foldable and solid frame for large dogs" and has a "really strong construction and doesn't take long to assemble/disassemble."
Pros
Anti-collision protection
Made of 600D Oxford cloth, which protects from wear and tear, animal breakouts, and prevents damage from scratching
One-year replacement options without any additional cost
Cons
The buttons can be difficult for folding
Pups that like to chew can still damage mesh windows
K&H Pet Products Buckle N' Go Dog Car Seat 
Best for quick and easy car travel installations for dogs of various sizes
The K&H Pet Products Buckle N' Go Dog Car Seat is an excellent option for dogs of various sizes and many road trips. The dog car seat buckles into your seat easily and keeps your pet in a restrained location for travel. It's most popular, however, for its front and back straps that connect to headrests and its ability to be quickly installed and uninstalled. 
Pros
Trusted brand (over 20 years of experience)
No pet limit so great for medium to large dogs
Quick installation 
Cons
Can only be spot-cleaned
Open-top which may not be ideal for all dogs
2PET Folding Soft Dog Crate
Best for versatility in training and travels
The 2PET Folding Soft Dog Crate is a great option if you need something to train your pup while traveling from place to place. It not only has extra pockets for treats and a portable water container, but many pet owners also like it for its easy storage. Some reviewers even raved that it was easy for car travels because it "was easy for me to thread through a spot in the back and the top handles to secure with the seat belt in the back seat."
Pros
Easy to store
Indoor and outdoor durability
Mesh windows for ventilation
One-year warranty
Cons
Mesh can sometimes be easy to rip
Some pets can break out easily
Kenneth Cole Reaction Multi-Entry Folding Portable Kennel Crate
Best for traveling with small pets to outdoor activities
The Kenneth Cole Reaction Multi-Entry Folding Portable Kennel Crate is a unique carrier in the form of a backpack. This allows dog owners to easily take their small pups around, with fewer strains on their arms and more interior comfort than most carriers. In fact, many people prefer it for being one of the top soft dog crates for car travel. However, it's better for small pups!
Pros
Backpack
Dual-side entry entries
Cozy interior
Additional safety feature—interior leash hook up
Cons
Can be secured in a vehicle but is best for hiking and outdoor activities
For small pups primarily
Pet Gear "The Other Door" 4 Door Steel Crate 
The best travel crate for large dogs traveling (goes up to 90 pounds!)
The Pet Gear "The Other Door" 4 Door Steel Crate is a popular option for pet owners looking for a safe way to secure their big dog. However, it's not quite as travel-friendly since it must be heavy and bulky for many big dogs to fit in it comfortably. With that being said, many reviews have said that they like the "efficiency of door options" and "the opening on the top is great to comfort an upset puppy without having to cave in and take them out."
Pros
4-door garage style
Up to 90 pound pet weight
Built-in wheels
Base is insulated
Padding included for extra comfort
Cons
Can be clunky and heavy for pet owners
Assembly and breakdown can be difficult
Key Takeaways and Tips When Buying a Dog Crate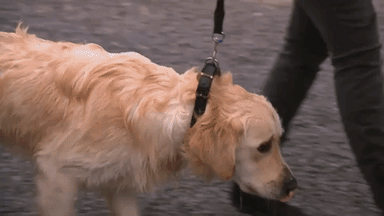 It's important to note that the best dog crates for car travel for you can differ from someone else. This is because it will depend on your preferences, your dog, and your vehicle. With that being said, any one of these top choices could be the perfect fit for you and your pup during car travels. Make sure to match the features with you and your pup's specific needs for the best results.
In the meantime, consider these tips before making such an important purchase.
How To Secure a Dog Crate in a Car
There are three important reasons why your dog should be strapped into a car for travel, even though there are options to buy crates that do not. According to Vets4pets, these are the reasons why:
Crash hazard: Unsecured dogs are a hazard for everyone in the car since they can be a distraction when climbing around. They also often like to go for your lap in these cases, which could also make travel unsafe and cause a crash. 
Dangers of bumpy roads, breaking hard, etc: Any sudden and strong force can cause your pup to fall over or even crash into something in your car. Since you can't always control your surroundings or avoid potholes/bumps, it's best to have pets safe and secure just in case. 
After the crash: Your pup doesn't always know what's going on, so after a crash, unrestrained dogs are more likely to be aggressive. This is because they're confused and sometimes even injured. On the other hand, restrained dogs are less likely to run away when freed from the car, even if they are under a bit of shock from the impact of the collision.
So, how do you safely secure your dog crate into your car?
There are four ways to secure your dog crate into your vehicle. You can secure it in the car hatch area where most cars have hooks to secure your crate to, the car footwell with the seat scooted up enough to secure it in place, securely buckled into place in a back seat, or by using a seat hammock. The safest, especially for larger dogs, is usually in the car cargo/hatch area if you have one, though!
What Are the Safest Dog Crates Within the Top Picks and Why?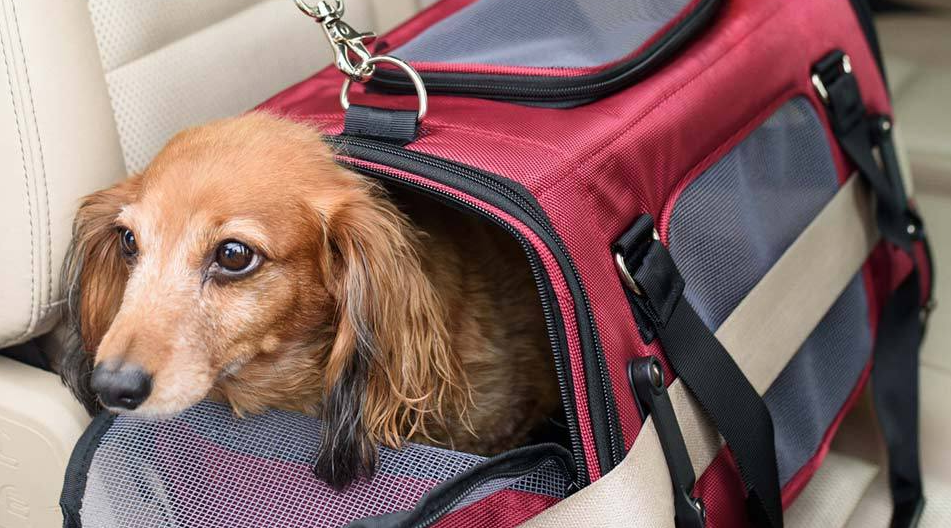 The safest dog crates for car travel in these top picks will always be the ones that can be securely hooked up to your vehicle's seatbelt and with the capability for your dog's harness to be strapped in. However, you should never just strap your dog into your car with just a collar and leash. This will be very dangerous for your furry friend.
Here are your top three safest choices out of our picks, in order:
Pet Gear View 360 Pet Safety Carrier & Car Seat: Easily attaches to the seat belt without tools, so there's no room for unsafe conditions due to inaccurate hookups. It also has 360-degree hy mesh windows, allowing sufficient ventilation, and features an interior tether that can be attached to your pet's harness. 
MASKEYON Airline Approved Large Soft-Sided Collapsible Pet Travel Carrier: Steel frame makes the structure more sturdy for your pet, mesh pockets offer ventilation, non-slip bottom, clip inside for additional security, and sturdy metal hooks for travel. 
Pet Gear "The Other Door" 4 Door Steel Crate: Finding a suitable crate for dogs up to 90 pounds is challenging. This 4-door steel crate is great for keeping your big dogs safe in your vehicle if you can fit it safely and securely locked onto a floor space (use seats to keep it in place). 
Post ID: Vv44Dd26x
Category ID: 6nVEPM2
The responses below are not provided, commissioned, reviewed, approved, or otherwise endorsed by any financial entity or advertiser. It is not the advertiser's responsibility to ensure all posts and/or questions are answered.