German Shorthaired Pointer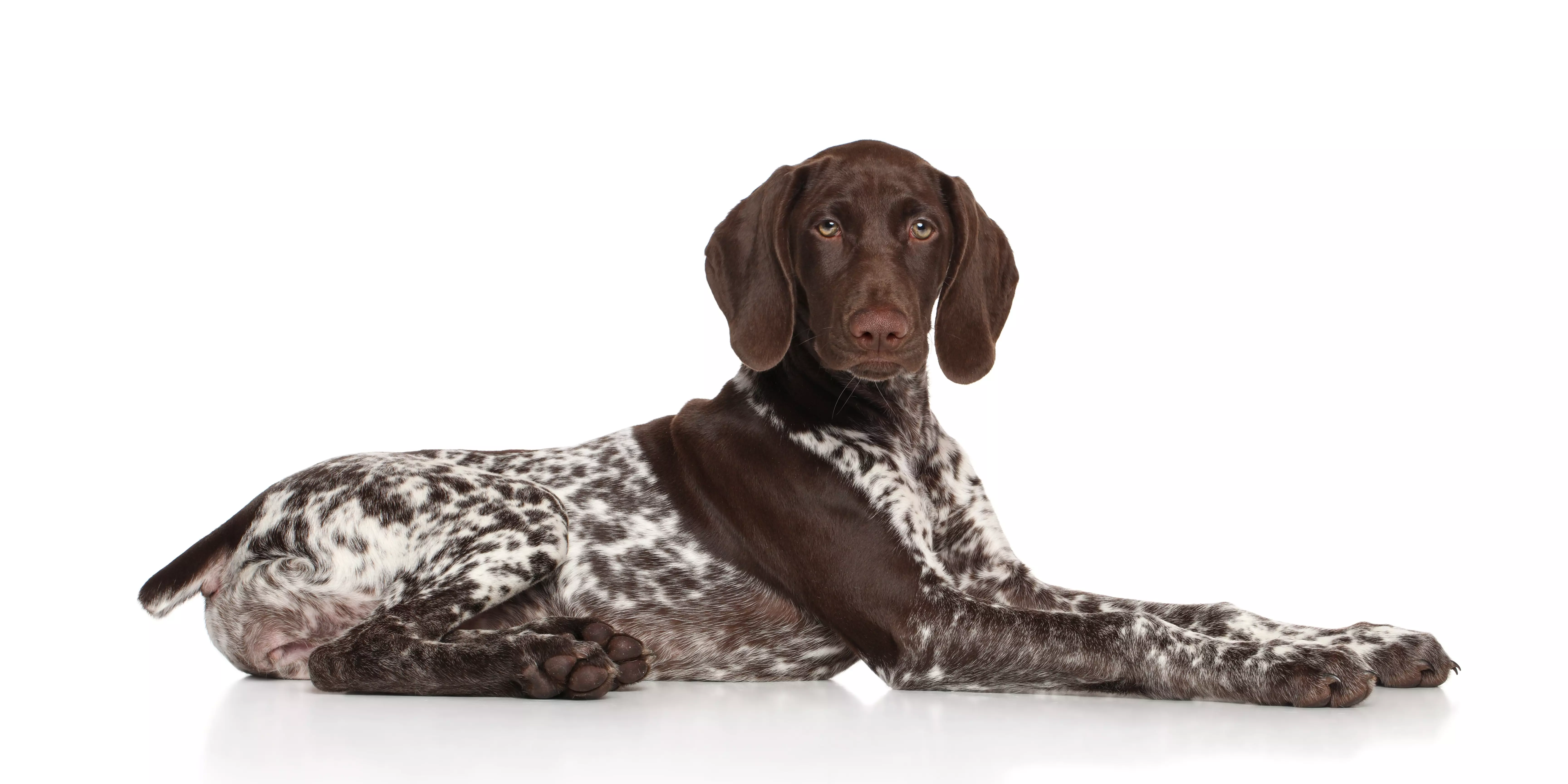 About Breed
The German Shorthaired Pointer (GSP) is a medium to large sized breed of pointing dog developed in the 19th century in Germany for hunting. A versatile hunting breed, being an all-purpose gun dog suitable for both land and water, they are streamlined yet powerful with strong legs. While a hunting breed that retains a strong drive to find and chase game, they are extremely energetic and can excel at a wide variety of dog sports. Their demeanor when well-socialized is friendly toward both people and fellow canines, with some tendency to be "velcro dogs".
The German Shorthaired Pointer has a short coat that comes in various combinations, generally a mix of liver and white. They have moderately long floppy ears set high on the head. Longer, broad, and strong, muzzles allow retrieval of heavier game. The dog's profile should be straight or strongly Roman nosed; any dished appearance to the profile is incorrect according to breed standards. Their eyes are generally brown, with darker eyes being desirable; yellow or "bird of prey" eyes are a fault. The tail is commonly docked, although this is now prohibited in some countries. In competition they are penalized if the tail is curved either up or down while the dog is moving. When the GSP is in classic point stance, the tail should be held straight out from the body, forming a line with the pointing head and body. Like all German pointers, GSPs have webbed feet and are known for going after waterfowl in the water.
The German Shorthaired Pointer is a member of the Sporting Group. In 2016, CJ, a 3-year-old German Shorthaired Pointer, won the Best in Show award at the 140th Westminster Kennel Club Dog Show.
German Shorthaired Pointer Photos
2 photos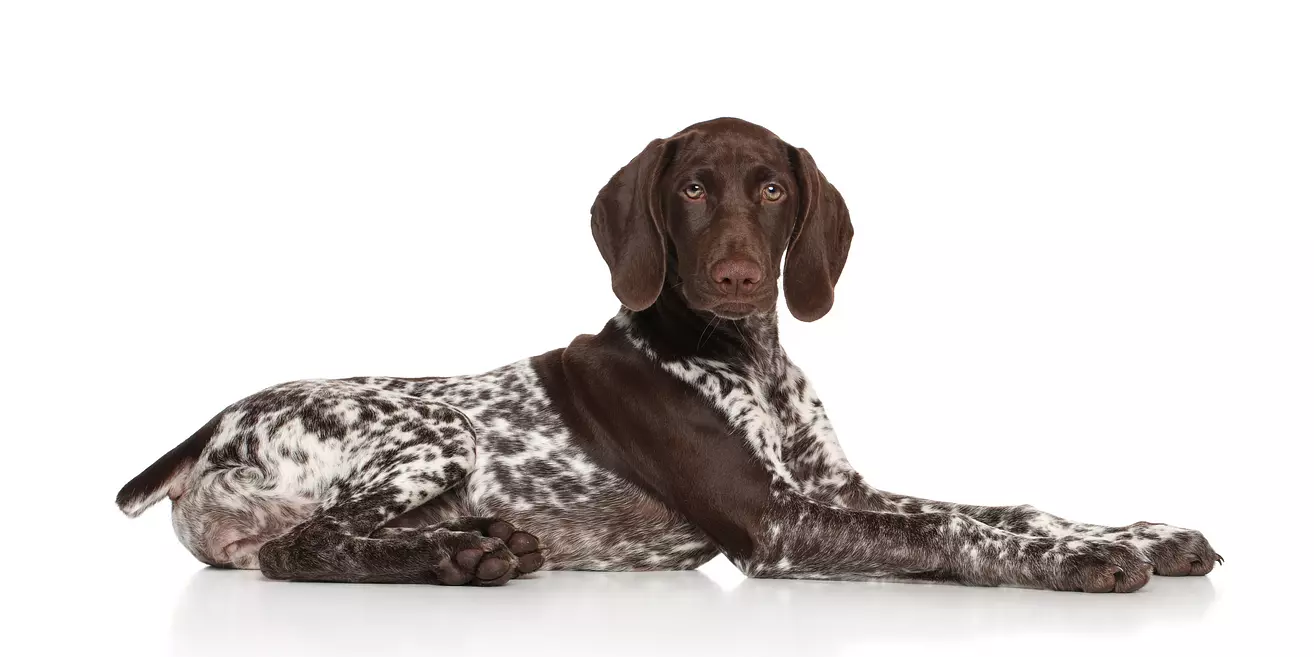 German Shorthaired Pointer
1 views
Breed Traits
Stranger-Friendliness
How friendly is this breed towards people they don't know? Some breeds love to meet new humans and become their new best friends. Other breeds may be more cautious around people they don't know.
Playtime Potential
Just if You Want to Play
Always Want to Play
How likely is this breed to enjoy playtime? Some dog breeds can wait for playtime, eager for the next game of fetch. Other breeds just want to chill on the sofa with their favorite human.
Watchdog Potential
What's Mine Is Yours
Vigilant
Will this breed be a good watchdog? Some dog breeds react strongly to potential threats and will alert you to anything from an intruder to a squirrel in the yard. Others are happy to welcome anyone in, meaning they probably won't alert you to any danger.
Ability to Adjust
Routine Lover
Highly Adaptable
How well can this breed adapt to changes in its life? Some breeds are happy to go with the flow, and won't be bothered by changes in noise, schedules, or living conditions. Other breeds may do better with consistency.
Amount of Drool
Less Likely to Drool
Always Have a Towel
How much does this breed tend to drool? Some breeds can leave drool on your hand, clothes, and furniture. If the thought of a big slobbery kiss from your pooch isn't appealing, you might want to stay away from breeds prone to drooling.
Grooming Needs
How often will this breed require grooming? Whether you are doing it at home or paying a professional, some dog breeds have higher grooming needs and will need their coats maintained on a regular basis. That can mean more of your time and money to keep your pet looking its best.
Amount of Shedding
No Shedding
Hair Everywhere
Is this breed going to shed a lot? Some breeds will shed more than others and may require more brushing and grooming. Those that shed may be harder on allergies, too, and you might find yourself cleaning up left-behind fur or hair more often.
Family-Friendly
Individualistic
Warmhearted
Is this breed good for families or better suited for individuals? Some dogs are happy to bond with the entire family and enjoy spending time with each member. Other breeds prefer the company of their owner and may be standoffish with others.
Child-Friendly
Not Recommended
Kids Friendly
Is this breed good with children? Some breeds are tolerant of children and patient with loud noises and grabbing hands. Other breeds might be better off with an adults-only household. No matter the breed, you should always watch your dog around children.
Dog-Friendly
Not Recommended
Good With Other Dogs
Is this breed good around other dogs? Some dogs are better at getting along with canine companions while others prefer the company of humans. You should always keep an eye on your dog when introducing them to new animals.
Need for Mental Stimulation
Happy to Lounge
Needs Stimulus or Activity
Does this breed need a lot of mental stimulation? Some breeds, especially those bred for a specific purpose such as herding, may need more mental stimulation than other breeds. That means they need challenges to solve, decisions to make, and other ways to exercise their brains as well as their bodies.
Training Potential
Self-Willed
Eager to Please
Is this breed easy to train? Some breeds catch on to things like house-training and new tricks quite easily, eager to earn their owner's praise and maybe a treat or two. It may take more time and patience to train other breeds.
Level of Energy
How much energy does this breed typically have? Some dog breeds have a lot of energy, meaning they'll need more exercise to keep them happy and healthy. Other breeds are happy to chill on the sofa and take a nap.
Noise Level
Only When Necessary
Significantly Vocal
Is this breed likely to make a lot of noise? Some breeds love to bark, howl, and vocalize to their owners. They might bark at a stranger or howl for their dinner. Other breeds tend to be more quiet, only using their voice when they really need to.